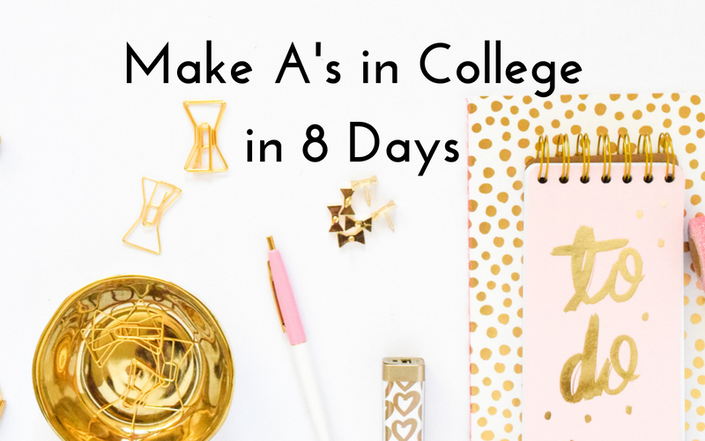 Make A's in College in 8 Days
Everything you need to know to excel in your college classes
Enroll in Course
Ready to stop struggling in college and start making grades you are proud of?
You're in the right place.
Want to save time studying and have more free time?

"Make A's in College in 8 Days" is going to be your new best friend! (You know, the one who holds your hand and is by your side through every single one of those college struggles!)
A lot of people think making A's in college is a God given gift only bestowed on the brilliant.
I'm here to tell you that it's not, my friend!
Instead, it's about taking the time to lay a successful foundation, learn effective studying techniques, and actually put that knowledge to good use!
In "Make A's in College in 8 Days," I'll show you exactly how I make A's in my college classes, the exact tools I use to study, and smart ways to study more effectively.
You'll get all the tools, strategies, and tips that you need in order to make A's in your college classes.
In my first few months (okay, maybe a year) of college, I was frustrated with the amount of time that I spent studying only to make an average grade on my exams. I was sick of what felt like wasted time for minimal results, and I knew that there had to be a better way!
Then, I mixed up my studying techniques, discovered incredible tools, and started to watch my test scores climb! Thanks to the work that I put in at the beginning of my college career, I now have an amazing GPA and have been officially accepted into a physical therapy graduate program!
Although it took me a few months to figure these things out, you can learn everything that I struggled to learn right away! All in one place! This means no more digging around Pinterest for the same old tips, no more frustrated test scores, and fewer sleepless nights!
So, what changed?
I laid the foundation for a successful semester. I improved my old studying habits, and I tried new things until I found what worked for me. I implemented amazing tools from the internet that actually helped. I stayed focused in all of my classes. I learned how to excel on all of those extra assignments, and I discovered how to get in gear during finals week! Ever since then, I have made higher grades using the exact same tips I will be giving you. Want to know the best part? Now, I'm actually proud of my GPA and am ready to take on my professional graduate school program!
But Sam, what's wrong with what I'm doing now?
The biggest mistake I see college students make is waiting until the last minute to study for a test. They think they can get by on late night coffee binges and osmosis. Sadly, this is impossible (I wish, though!). Many students don't prepare enough in advance to really get the most out of their studying.
This is not the right way to study, my friend! Preparing in advance and using the right studying methods is what keeps your stress levels low, your body rested, and your brain prepared for test day. I know you can do it. I'm here to show you how.
My friend, it is time for you to stop barely scraping by. I want you to start seeing the results that you want and need in order to succeed in college!
Many students study the way they do simply because that's how they have always done it. There is a better way, and it doesn't include late nights, lack of sleep, and so much stress you start to lose your hair.
When you sign up for Make A's in College in 8 Days you get
* Step by step lessons based on effective strategies to help you boost your GPA in college. -Everything has been tested by yours truly.
* The exact methods I use to make A's in my college classes.
* Actionable tips that you can start using as soon as you finish each lesson.
* The easiest and simplest ways to improve your grades through various tips ranging from essays, note-taking, studying, finals, and more.
* Affordable and free tools you can use to improve your grades.
* Simple but powerful strategies that work.
The best part of this course is that you can go through all of the material on your own time. You can learn everything you need to know to make A's in your college classes from the comfort of your dorm room! Girl, you don't even have to put pants on for all I care!
Once you understand these methods and techniques, you can start using them to replicate this success and start improving your own grades! Once you've made your first A, it's a lot easier to keep them coming! If you choose to invest in yourself, your body, mind, and future will thank you.
What's in the course:
Detailed lessons, each packed full of easy-to-follow grade-boosting tips.
A combination of semester preparation, in class, productivity, studying, and finals week tips so your grades and your social life have a chance of actually working together.
Extra bonus's with each section to help you work through every step so you can actually start seeing results!
This course is not based on "theory" my friend! These are all of the things that I do to have a 3.8 GPA as a senior biology major! But don't just listen to me! Listen to someone who has actually gone through the course!
"I highly recommend Make A's in College in 8 Days! Samantha is like an older sister and cheerleader all in one, walking you through the process step-by-step with advice, resources and encouragement. Every lesson in the course has actionable advice that you can take with you throughout your college experience. If you're struggling to make the grade in college, you definitely need this e-course in your life!"– Hope Young, Founder of
The Young Hopeful
Course Curriculum
Welcome to the Course!
Available in days
days after you enroll
Prepare for the Semester:
Available in days
days after you enroll
In Class Success:
Available in days
days after you enroll
Frequently Asked Questions
When does the course start and finish?
The course starts now and never ends! It is a completely self-paced online course so you decide when you start and when you finish.
How long do I have access to the course?
How does forever sound? After enrolling, you have unlimited access to this course for as long as you like across any and all devices you own.
What if I am unhappy with the course?
We would never want you to be unhappy! If you are unsatisfied with your purchase, contact us within five days, and we will give you a full refund.
Why is it so hard to find effective studying tools?
Finding effective study tools is so difficult because you literally have no idea where to start. If your school, friends, or teachers haven't told you about these study tools, then you won't even know what's out there.
What about a tutor?
Tutors are awesome, and I fully encouorage you to visit a tutor if you need to! However, what I teach in this course isn't something that a tutor will teach you. See, tutors show you how to do a specific task. In this course, I will be teaching you things that you will use and reuse for every single class that you take.
Who is this for?
This course is for anyone who struggles with making good grades in college, those who want to make higher grades, and those who simply want to improve their study habits.
What happens when I buy this course?
When you buy this course, you will receive automatic access to all of the lessons and bonuses!
What will it cost?
Make A's in College in 8 Days is an online course that costs $55.
Is it worth the investment?
Absolutely! The things that I will be showing you in this course are way more in depth and helpful than any studying tips post you have ever seen. This course is something that will not only help you make better grades but will also help you to feel less stressed before tests. To me, having less stress is totally worth the money. Plus, it is way cheaper than any other college class you'll ever take!
Will it save me time studying?
This course is designed to help you save time studying by teaching you effective studying techniques. More effective studying means more learning in less time!
Your Instructor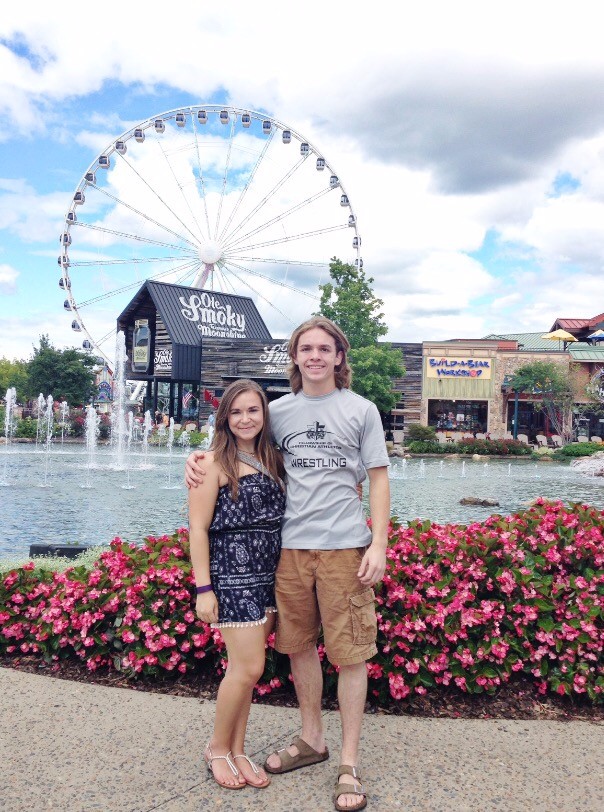 Hello lovely! I'm Samantha the founder of AsLifeGrows.com, where I teach students just like you everything they need to know to have a successful college experience. Through my posts, weekly newsletter, and courses, I've helped thousands of students become more successful in college. During the past few years of college, I have been able to earn a 3.8 GPA, make amazing friends, and have an amazing college career (all without getting grey hairs!)! I don't know about you, but I'd call that success! Now, I am here to teach you how you can reach your own level of success!
I know that you have what it takes to succeed in college, and I want to give you all of the knowledge, tools, and tips that you need to reach your GPA goals!
Come join the party, my friend! Let's succeed together!